Testimonials
"Our experience working with Carol was outstanding. The communication and sound advice were continuous from initial listing to closing. Her professional approach and experience in the Park City market were invaluable and major factors during the complex due diligence and inspection period. We have bought and sold many homes in several markets over the years and Carol is the best. Thank you Carol!"
Scott and Jennie Pierce
"I've now bought three condos/homes and sold two condos/homes with Carol and Kristy. I wouldn't think of dealing with anyone else. These ladies are easy to work with and they listen to what I have to say."
Ellen Sherk
"We have been through the sales process on numerous occasions and have had both good and bad experiences, but I must say that working with Carol has by far been the best and most professional experience we have had. Park City is full of Realtors with many varying sales techniques and approaches, but I am convinced that she is unsurpassed by any of them in her knowledge of the market, her understanding and application of the very latest digital marketing techniques and her dogged pursuit of the client's goals."
Mary Ann and Barry Jenkins, William Jenkins Architectural and Environmental Design
"Carol has done a great job for us on several real estate transactions. She stays on top of the market, and she knows what's going on. She works hard and doesn't drop the ball. She thinks about what she's doing, she tells you the bad news along with the good news; she gets the job done. In a market full of amateurs and wannabes, Carol is a real professional. I'd recommend her to anybody."
George Klopfer, CEO, Polk Audio
"Carol is a consummate professional. She is knowledgeable, intense, tenacious, imaginative, and has excellent contacts. In our Deer Crest transaction, she provided much better service than the Deer Crest staff and other advisors assisting me. She is an outstanding Realtor in all respects. Her communication was outstanding, and she makes herself readily available through her office phone, her home phone, her assistant, and her cell phone. She responds extremely quickly to questions and requests for information."
Thomas R. Hodgson, COO, Abbott Laboratories
"Every week, we had a call from Carol giving us the market update, and a report on our property's showings. Carol really kept us informed."
Bruce and Susi Talkington, Park City
"I wasn't surprised when I learned that Carol used to be a math teacher. She was a whiz in calculating and analyzing the important financial data in our complicated transaction. Carol's intelligence and educational background make her stand out from the field of real estate agents."
Marisue Wells, Computer Consultant
---
Latest News & Statistics from Carol Agle

Remarkably, the Park City market has been basically post-crash stable for 5 years.
There has been an increase in the premium paid for new homes. They now sell for about 35% more per sf than existing inventory.
Inventory is up a bit. Prices continue at a steady rise, although not huge. The number of sales has fallen a bit.
As ever, the Park City market is complex and fragmented. Careful analysis is required to evaluate opportunities in discrete niches.
Featured Properties
---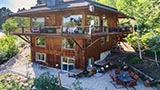 Tollgate Big-Views Home
2421 Navajo Drive
Bedrooms: 3
Price: $988,000
MLS 12103384
More Info
---

Super-Close Ski In/Out Park City Mountain
Snowflower 101
Bedrooms: 2
Price: $ - Just Sold - $
MLS 12002553
More Info
---
---
---
---
---