Latest News & Statistics from Carol Agle

Park City market has been stable, with moderate valuation increases for over 5 years.
There has been an increase in the premium paid for new homes. They now sell for about 35% more per sf than existing inventory.
Inventory is relatively unchanged year-over-year. Prices continue to rise in lower valuations, less in higher-end properties.
As ever, the Park City market is complex and fragmented. Careful analysis is required to evaluate opportunities in discrete niches.
Upper Deer Valley Luxury CondoStage #48
Bedrooms: 6
Price: $4,400,000
MLS 12004627 More Info
A Castle (yes, a Castle!) in the Colony212 White Pine Canyon
Bedrooms: 4
Price: $14,000,000
MLS 11907435 More Info
Snow Park Condo - Views, SkiingPinnacle 78
Bedrooms: 4
Price: $2,095,000
MLS 12100372 More Info
Park Meadows - Warm, Cozy, Charm3097 American Saddler Dr
Bedrooms: 5
Price: $1,485,000
MLS 11907605 More Info
Super-Close Ski In/Out Park City MountainSnowflower 101
Bedrooms: 2
Price: $ - Just Sold - $
MLS 12002553 More Info
Community Information
The Treasures of Park City - Silver, The Silver Screen, and White Gold
Long before Park City became a world class ski resort town and the primary mountain venue for the 2002 Olympic Winter Games, it was famous for silver mining. Scouts for the U.S. Army discovered the first silver in the area while they were based near Salt Lake City for the purpose of preventing any trouble between the first Mormon settlers, the indigenous population of the area, and travelers headed to California. The claim was staked with a flag on a staff on what is now aptly named Flagstaff Mountain at Deer Valley.
"Today the Park City area has three world class resort bases: Park City Mountain, Deer Valley, and Canyons Village.
The town of Park City was founded by prospectors in 1869, and as a piece of America's Wild West, it enjoys a lively and colorful past. By 1900, it was a booming mining town with 10,000 residents and 100 saloons. The area boasted the second largest silver strike in the U.S. serviced by 1200 miles of mining tunnels under the city. The deepest mining shaft is 2600 feet deep, and the wealth created here has had a deep impact on America's economic landscape ever since fueling fortunes of the likes of George Hearst who owned the Ontario Mine and whose wealth later led to the Hearst publishing empire.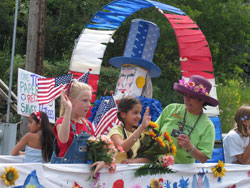 Park City continued to mine silver until the early 1970's, but in truth the fortunes of the mining industry had started to wane by the late 1950's. The town's fathers convened to plot the future of Park City and turned to the next most logical natural resource – the Greatest Snow on Earth. Knowing that they needed a second act, the mining company, United Park City Mines, started the ski business in 1963, when they built the first lifts on what was then called Treasure Mountain, and the rest is history.
Today the Park City area has three world class resorts in two ownerships: Park City Mountain Resort, Deer Valley Resort, and Canyons Resort -- both Park City and Canyons bases combined in Vail's ownserhip. In addition to hosting more than half of the events of the 2002 Winter Olympics, Park City also hosts Sundance Film Festival every year, the largest film festival in the U.S. and one of the most famous in the world. As the town's winter fortunes have grsown, the summers here are being discovered and Park City and Deer Valley is now a vibrant year-round community. Park City boasts top-ranked golf courses, and is known globablly as a mountain-biking mecca, with an extraordinary trail system, as well as lift-served summer trails.
Click Here For: Current BHHS Living Guide
Click Here For: Current BHHS Neighborhood Guide