Latest News & Statistics from Carol Agle

Median price of a Single Family Home in the Park City limits is $1,630,000, up 18% in a year.
Median price of a home in the greater Park City area, outside the city limits is $975,000, up 11% in a year.
Median condominium price in Park City is $650,000, up 16% in a year.
Market remains highly segmented, with micromarkets of high value still existing.
Super Hillside Home - Close but Private Setting4700 Nelson Court / Cedar Draw
Bedrooms: 6
Price: $3,620,000
MLS 11805843 More Info
High Lot with Commanding Views2740 Bear Hollow Drive
Bedrooms:
Price: $1,998,500
MLS 11804874 More Info
Extraordinary Glenwild Residence575 Mountain Holly Rd
Bedrooms: 5
Price: $4,650,000
MLS 11804459 More Info
Red Ledges - Golf, Huge Views457 Ibapah Peak Dr
Bedrooms: 4
Price: $1,460,000
MLS 11805209 More Info
Canyons Luxury Home98 White Pine Canyon Road
Bedrooms: 6
Price: $7,250,000
MLS 11800250 More Info
Music in the Mountains
Park City also offers intellectual and cultural pursuits. The community hosts colorful and eclectic festivals throughout the year, including the world-famous Sundance Film Festival, the Park City Kimball Arts Festival and the Fidelity Investments Park City Jazz Festival, just to name a few. In every season, the Park City Performing Arts Foundation offers celebrated live dance and musical performances, and every weekend the Park City Film Series screens a different independent film.
Utah Symphony & Orchestra
Summertime at Deer Valley Resort also brings the Utah Symphony & Opera, held in the Outdoor Amphitheater at Snow Park Lodge. The Utah Symphony is one of only 19 full-time, professional orchestras in the United States, and is best recognized internationally through its great recording legacy. From its early beginnings in 1940, with 5 concerts performed by 52 part-time musicians, the 83-member orchestra now performs over 200 concerts each year. www.utahsymphony.org
Park City Performing Arts
Park City Performing Arts Foundation is a non-profit organization, dedicated to presenting top-notch, diverse and entertaining performances to the community. Now in its ninth season, PCPAF continues to bring eclectic, nationally and internationally renowned performers to The George S. and Dolores Doré Eccles Center for the Performing Arts (a joint-use facility with the Park City School District). PCPAF's main stage acts have ranged from comedian Bill Cosby to Pilobolus Dance Theater (a Cultural Olympiad performance) to bluegrass stars, Nickel Creek.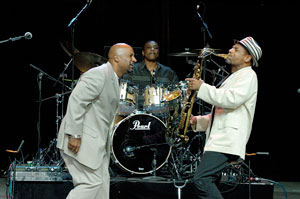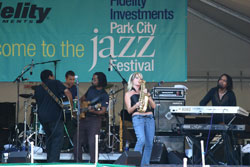 Concerts At The Canyons Resort
Concerts at The Canyons welcomes many professional acts that have included Buckweat Zydeco, Sonny Landreth, String Cheese Incident, Green Day, and Collective Soul. These concerts are held in The Canyon's Village Forum are which features a covered stage, concessions, beer garden, plenty of seating, fire pit, and a large sculpture that is the center piece of the forum. www.thecanyons.com
Concert In The Park
Throughout the summer, PCPAF presents the Wells Fargo Concerts at Deer Valley's Snow Park Amplitheater– free concerts performed by local musicians for local audiences as well as Big Stars, Bright Nights (large-scale concerts) at Deer Valley Resort. www.ecclescenter.org
Mountain Town Stages
Mountain Town Stages is a non-profit organization. They exist to foster and support an internationally recognized musical community in our beautiful mountain setting. They are working to establish Park City as a musical destination for visitors and make the hills alive with music for residents - Like a stationary cruise ship. The programs add to the overall festive atmosphere experienced by locals and visitors. They are striving to create a mountain musical Shangri-la. www.mountaintownstages.com