Latest News & Statistics from Carol Agle

Buying Demand is breaking all previous records. Park City real estate is HOT! 2021 sales volume is the highest in Park CIty history..
Inventory is now at record lows. .
Vacant Land sales are now a leading segment.
As ever, the Park City market is complex and fragmented. Careful analysis is required to evaluate opportunities in discrete niches.
" My wife and I have moved every 24 months for 20 years. We know how to buy and sell property, and one of our secrets is to work with the top producer in the area. I tracked Carol down while we were living in Zurich. I could tell from the first call that she listened well. She showed us properties that were exactly like what we had requested. Carol ensured that we included some key provisions in the purchase contract that other less fortunate owners forgot to include when they bought. I only recommend people who have earned my respect, trust, and who deliver outstanding service. "
Chris Thompson
" Of all the individuals who have supported our six real estate transactions over the past 17 years (including in Manhattan), Carol and her exceptional level of professionalism have vastly surpassed our expectations. In every one of the dozen-plus homes we visited, Carol was greeted by the sellers' agent with friendliness and relief. More than once, the agent mentioned how easy and efficient Carol was to work with. In a field rife with competition and potentially charged situations, her network of satisfied counterparts is seemingly endless, underscoring a strongly positive reputation that borders on being a local institution in herself. Carol pairs the tireless resourcefulness of an expert saleswoman with the natural authenticity of someone who builds community. "
Ann and Jonathon Evans
Festivals and Events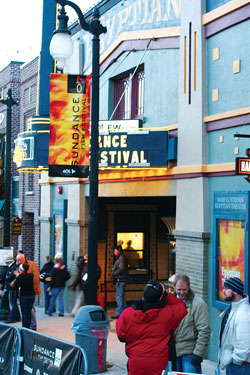 Sundance Film Festival
The annual Sundance Film Festival, held each January in Park City, Utah, is widely recognized as the premier showcase for American and international independent film. Inclusive and eclectic in its programming approach, the festival has grown to include film culture events, panel discussions, youth programs, online exhibition, and live music. Attended by more than 45,000 people from around the world each year and with an online audience exceeding 1,000,000 users, the Sundance Film Festival creates a vibrant, unique community of artists and audiences that extends well beyond the mountains of Park City, Utah.
Park City Kimball Arts Festival
The annual early August Park City Arts Festival is one of the summer's biggest draws. Artists and craftsman from around the world come to show and sell their beautiful art pieces. There are also numerous art galleries throughout town which exhibit great artwork from around the world. The Kimball Art Center provides exhibition space for talented local and regional as well as world-famous artists.
Visit www.kimball-art.org for more info.